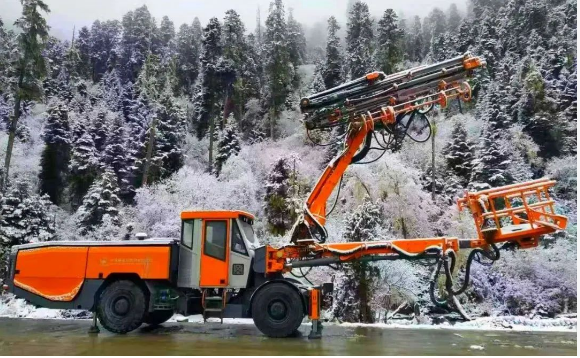 In April 2022, two MT11G plateau version bolting trolleys produced by Zhejiang Zhigao Machinery Co., Ltd. successfully arrived at the project team under China Railway Group, providing strong equipment support for the construction of China's century project "Sichuan-Tibet Railway".
Technological innovation fills the gap
Over the years, in order to respond to the national requirements for improving the safety of tunnel engineering construction and

production, Zhigao Machinery has joined hands with the top tunnel construction units in China, starting from practical applications, invested a lot of manpower and material resources to develop and manufacture bolt trolleys for long tunnels to fill the gap, greatly improving the efficiency and safety of bolting construction, and has achieved certain technical achievements, forming a series of innovative products of bolt trolleys for tunnel engineering construction, and widely used in the construction of long tunnel bolts of many domestic railways.

In 2019, the first-generation bolting trolley MT11 of Zhejiang Zhigao Machinery Co., Ltd. was used in the Changjinghuang Railway Project of the Fourth Bureau of China Railway, replacing labor with machinery, drilling rocks, installing bolts, and grouting in one go, which solved the difficulty of top bolt application that has been plaguing the construction unit in the construction of long tunnel anchors. The equipment still plays an irreplaceable role in the project today. Subsequently, Chigo Machinery successfully delivered two underground bolting trolleys UJ21C for the Chongqing project of China Railway 4th Bureau and two MT11G for the Sichuan-Tibet railway project of China Railway 4th Bureau.
In 2020, the high-altitude special "drilling anchor integrated type" project anchoring trolley MT11G jointly developed by Chigo Machinery and China Railway Tunnel Bureau officially rolled off the production line and was successfully applied to the Sichuan-Tibet Line Sejila Mountain Tunnel Project. In 2021, according to the complex situation of the construction of the Sichuan-Tibet Line, the construction terrain and the project requirements, the Sichuan-Tibet Railway Project Team of China Railway Bureau, after several technical communications with the Zhigao technical R&D team, two MT11G plateau version bolting trolleys customized according to the actual construction needs were successfully completed and delivered for use in early 2022. Zhigao company sent professional technical R&D personnel to the front line of the project for many times to actually inspect and formulate a variety of application and transportation response plans for equipment, and finally ensured the smooth transportation of 2 sets of equipment to the project site and normal use. The equipment is mainly used for the application of resin anchors on site, the drilling time of the bolt hole is about 1.5 minutes, plus the installation of bolts and other operations, the total completion of a bolt application time is about 5.5 minutes, which is still in the new operator is completely unskilled to achieve the application efficiency, and so on the later operators are gradually skilled, the application time of a single bolt will be greatly reduced.