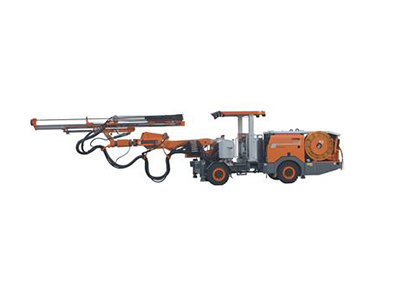 Product Description Information
Main features: Suitable for blasting holes and anchor rod operations in underground mines and tunnel excavation.
Functional configuration:
Adopting an environmentally friendly diesel engine to drive walking and positioning, and an electric motor to drive rock drilling operations, the dual power matching design can achieve fast relocation and a zero emission, low noise, and environmentally friendly rock drilling environment. Equipped with an efficient rock drill and a heavy-duty suspended and stable composite drilling arm excavation system, it has high-precision automatic parallel positioning and 360 degree flipping functions, allowing the drilling machine to be used for high-precision excavation operations on a 35m2 working face and for various purposes such as auxiliary anchor rod operations.
Mobile function:
Adopting a high-pressure closed hydraulic system to drive four-wheel walking, it can achieve two speed changes before and after walking, and the engine can avoid stalling during overload climbing. It can automatically adapt to speed reduction and increase output torque. The dual circuit pedal brake and emergency brake can ensure braking safety during driving. The entire machine is designed with a 1.65m ultra narrow articulated heavy-duty chassis, with a minimum turning radius of 2.8m and a climbing ability of 14°, Traveling at a speed of 12Km/h, it is professionally designed for narrow underground mines and tunnel excavation, blasting holes, and rock drilling with anchor rods.
System control:
During rock drilling, the hole is automatically opened and the impact is automatically stopped after the operation is completed. After a delay of 3 seconds, the bottom hole is flushed and then automatically returned. Equipped with a rock drill and drilling tool protection function that automatically stops impact when there is no drilling lubrication and flushing water. The advanced combined automatic anti jamming drilling system can automatically adjust the rotary pressure, propulsion pressure, and impact pressure according to different rock formations, to ensure that the drilling operation is always carried out under the best matching conditions.
Intelligent technology:
The entire electrical system adopts CAN communication connection technology and modular zoning layout design, simplifying the circuit and improving reliability. The display in the driver's cabin centrally reflects all data of the drilling rig and automatically alarms, stores, and displays the operating status of the drilling rig, making it easy for a single person to operate the drilling rig and easy to query maintenance faults.
Product features:
1. Thruster: Heavy aluminum alloy propulsion beam, with high bending and torsional strength, corrosion resistance, and long service life. The surface of the propulsion beam is covered with stainless steel skin, and the moving parts are equipped with polytetrafluoroethylene wear-resistant pads to improve their service life< Br/>
2. Rock drill: ZY104M rock drill is equipped with a dual buffering and damping system to ensure the optimal service life of the drilling tool. The combination of pressure oil film protection and lubrication interface reduces internal wear of the rock drill< Br/>
3. Safety ceiling: A lifting safety ceiling that prevents impact from falling objects< Br/>
4. Large capacity cable reel: The increased capacity cable reel can achieve a distance of 70m without the need for cable disassembly< Br/>
5. Positioning legs: Four heavy-duty telescopic hydraulic legs are used to stabilize the body, making positioning more stable and accurate< Br/>
6. Operation console: The system is highly integrated, and the layout design in the same area makes operation more convenient< Br/>
7. Brake system: Designed and developed specifically for underground working environments, dual brake system, in addition to wet braking on the front and rear axle wheels, also includes wet braking on the front axle spindle, diameter (mm)
one thousand and one hundred
Water system
Flow rate (L/min)
sixty-six
Minimum inlet pressure (bar)
two
Pressure (bar)
twelve
&Nbsp;
&Nbsp;
Weight and dimensions
Overall weight
&Le; 12.17T
Driving turning radius
Internal R2800Outer R4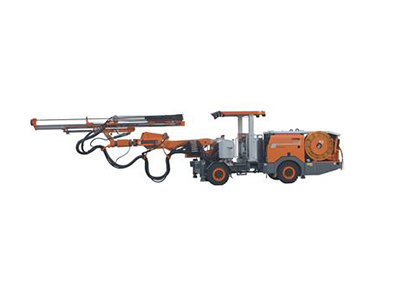 Overall dimensions (length x width x height)
10920x1650x2100/2800
Working end face size (width X height mm)
6600x5670 (5600x5390)