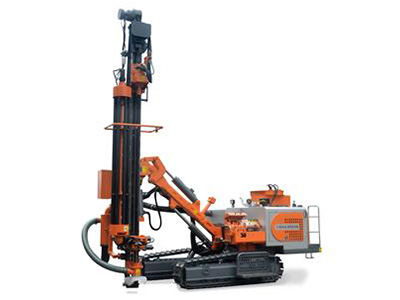 Product Description Information
The ZEGA D355RHS drilling rig is an innovative concept split type drilling rig, equipped with an automatic rod changing system as standard, suitable for various rock hardness quarries, mines, and engineering construction.
Zhigao Digging's innovative work showcases today's most advanced manufacturing technology, which is efficient, energy-saving, environmentally friendly, and safe.
The ZEGA D355RHS split down hole drilling rig is another masterpiece of Zhigao. The application of a new drilling arm system and automatic rod changer greatly reduces labor costs while meeting the requirements of efficiency, energy conservation, and environmental protection. It is the best choice for upgrading the split machine.
Product Features
1. The automatic rod changer is equipped with a rod storage bin and an automatic rod changing device. Efficient, fast, and reliable mechanical pole changing device
The clamp type hydraulic disassembly platform is suitable for various drill pipes with different apertures, making disassembly convenient and fast< Br/>
2. Efficient dust collection system
High efficiency dry two-stage dust collector with strong suction capacity, large filtration area, and excellent dust removal effect< Br/>
3. High strength heavy-duty propulsion beam
The motor chain propulsion mechanism operates smoothly and has a long service life< Br/>
The new cycloidal motor has a rotating head, which has strong rotation and is not easy to get stuck< Br/>
A new type of guide rail with higher strength and more convenient adjustment< Br/>
4. Cummins engine
National III emissions, high reliability, easy to start, low fuel consumption, and easy to maintain< Br/>
5. Humanized operation console
The operating handle is centralized for easy operation< Br/>
The electronic control lever changing system operates flexibly< Br/>
6. Third level air filtration
A three-level air filtration system provides better protection for diesel engines< Br/>
7. New protective cover
The new outer cover design makes equipment maintenance convenient< Br/>
The rear walking operation is too convenient for long-distance relocation< Br/>
8. Standard walking mechanism
The standard track walking mechanism has increased the walking speed to 4 km/h< Br/>
The swinging track frame has stronger off-road performance< Br/>
Main technical parameters
D355RHS Main Technical Parameters
&Nbsp;
&Nbsp;
&Nbsp;
Engine brand
Cummins
emission standard
Country III
Engine model
4BTA3.9-C125
Fuel tank capacity
120 L
Engine rated power
92 kW
Impactor
4 inch/5 inch
Aperture range
Ø 110-152 mm
Slewing torque
3,