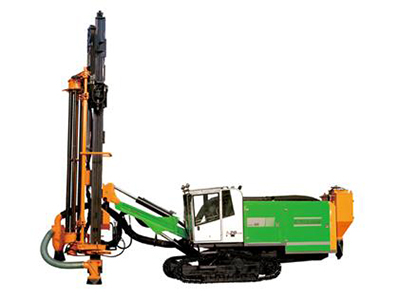 Product Description Information
This product is a heavy-duty open-air down-hole drilling rig developed and manufactured by Zhejiang Zhigao Machinery Co., Ltd., which integrates gas, liquid, and automation control. It comes standard with a driver's cab and an automatic tool changing mechanism, as well as a heavy-duty walking mechanism and chassis with leveling function, which not only meets the requirements of fast movement and high off-road performance, but also makes rock drilling operations more stable. Equipped with dual level dust removal function, it can meet the environmental requirements of all mines, and the product is widely used in various engineering construction and mining. The product is widely selected by modern green mines for its high efficiency, energy conservation, environmental protection, and safety characteristics.
Main features: large aperture, medium depth hole, suitable for various complex rock formations.
Efficient
The automatic replacement of drill rods, a maximum length of 6 meters of drill rods, and powerful off-road performance shorten the auxiliary time of the drilling rig. Equipped with a large displacement high-pressure screw air compressor, the slag discharge is thorough, which is more conducive to a significant increase in drilling speed and reduces drilling tool consumption. The large diameter drill pipe reduces the compressed air required for slag removal. Powerful propulsion and rotation design, while meeting the requirements of high-speed rock drilling, has solved the problem of drilling stuck in complex rock formations. Single person operation reduces labor costs, while large hole drilling reduces the number of required boreholes. The above functions also reduce the number of equipment required for the mine.
energy conservation
A single engine drives both the screw type air compressor and hydraulic system simultaneously, and the power output is designed to be staggered. Compared to the diesel engine of a split drilling rig, the total power is reduced by about 30%, and maintenance costs are reduced by 50%. The decrease in total power consumption, the increase in drilling speed, the shortening of auxiliary time, and the reduction in drilling quantity result in a significant reduction in unit energy consumption.
environment protection
The standard dual stage dry dust collection device and optional wet dust removal device not only meet the environmental protection needs of mines and operators, but also significantly reduce the pollution of dust on the equipment itself.
security
The track leveling device makes the center of gravity of the drilling rig more stable on the uphill and downhill slopes, and the track adhesion of the original terrain is stronger. The powerful operation ability reduces the number of equipment and personnel required for the mine. The protection design of the drill bin and driver's cab eliminates personnel safety hazards& Nbsp;
Product Features
1. Select special steel according to requirements and adopt advanced structural manufacturing technology< Br data filtered="filtered"/>
2. Floating tubing follower: The configuration of Zhigao's independently developed floating tubing follower effectively protects hydraulic and air pipelines, greatly extending their service life< Br data filtered="filtered"/>
3. Drill rod replacement mechanism: A patented design consisting of a sensing and positioning drill rod compartment, a robotic arm, a locking sleeve, and a clamping device, meeting the needs of various specifications of drill rods for drill rod replacement< Br data filtered="filtered"/>
4. Advanced positioning clamp mechanism: The efficient positioning device ensures precise positioning, and the safety design of the clamp eliminates the risk of falling drill pipes< Br data filtered="filtered"/>
5. High power rotary mechanism: increased design for rotationLeading industry standards< Br/>
Main technical parameters
diesel engine
model
C11
Operating speed
1800rpm
Manufacturing factory
Caterpillar
Fuel tank capacity
600L
Rated power
287kw
&Nbsp;
&Nbsp;
screw compressor
Manufacturing factory
chigo
Exhaust air volume
20 m3/min
Head manufacturing factory
Ingersoll Rand
Maximum wind pressure
24 bar
Functional parameters
Aperture range
138-165 mm
Supporting impactor
4inch, 5inch, 6inch
Automatic drill hole depth change
35m
Rotation speed
0-105 rpm
Drill pipe diameter
89mm 102mm
Slewing torque
4310N. M
Number of drill bits stored
6+1
Drill pipe length
5m
Recommended aperture
152mm
&Nbsp;
&Nbsp;
Drill arm and propulsion beam
Drill arm form
Single straight arm
Promotion method
Oil cylinder steel wire rope
Total length of thruster
9100 mm
Propulsion stroke
5600mm
Promote compensation
1300 mm
Maximum propulsion speed
0.88 m/s
Maximum propulsion force
34.5 KN
Maximum pulling force
67.6 KN
chassis
Walking speed
High speed: 3 km/h Low speed: 1.5 km/h
Maximum driving force
130KN
Climbing ability
25°
Crawler frame swing angle
&Plusmn; 10°
Ground clearance
420mm
&Nbsp;
&Nbsp;
Weight and dimensions