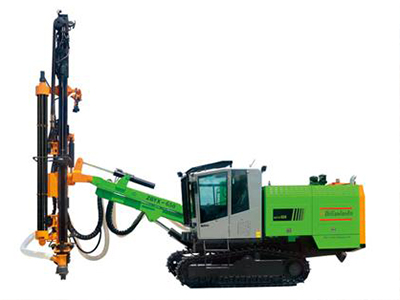 Product Description Information
This product is independently developed and manufactured by Zhejiang Zhigao Machinery Co., Ltd. It is a rock drilling rig that integrates pneumatic, hydraulic, and automatic control for hydraulic rock drilling. It comes standard with a driver's cab and an automatic drill rod changing mechanism, with a leveling and specially designed toothed track walking mechanism, giving the drilling rig excellent off-road capabilities. Equipped with dual level dust removal function, it can meet the environmental requirements of all mines, and the product is widely used in various engineering construction and mining. It is widely chosen by modern green mines for its high efficiency, energy conservation, environmental protection, and safety characteristics.
Main features: small and medium-sized aperture, high drilling speed, and low fuel consumption.
Efficient:
The drilling rig can drill multiple rock holes at once, with flexible drilling arms and off-road functions, which can meet the drilling needs of various primitive landforms. At the aperture≤ Under normal rock structure conditions with a hole depth of less than 15m and a hole depth of 115mm, the drilling speed is 50% higher than that of a high-pressure integrated down-the-hole drill.
Energy saving:
Equipped with a self-designed ZY104 hydraulic rock drill (with a rock drilling pressure of 23MPa and a power of 20KW). The precise positioning of the drilling arm, automatic loading and unloading of the drill, as well as the advantages of drilling speed and fast transition, make the unit energy consumption of the drilling rig unparalleled competitive.
Environmental protection:
The standard dual stage dry dust collection device and optional wet dust removal device not only meet the environmental protection needs of mines and operators, but also significantly reduce the pollution of dust on the equipment itself.
Security:
The track leveling device makes the center of gravity of the drilling rig more stable on the uphill and downhill slopes, and the track adhesion of the original terrain is stronger. The powerful operation ability reduces the number of equipment and personnel required for the mine. The protection design of the drill bin and driver's cab eliminates personnel safety hazards.
Product features:
1. A propulsion system composed of oil cylinders, steel wire ropes, and pipe followers that can provide different thrust and lifting speeds according to requirements< Br data filtered="filtered"/>
2. Part identification: All oil pipes and cables have marking rings at both ends, which are the same as shown in the parts manual, making maintenance more convenient< Br data filtered="filtered"/>
3. Telescopic drilling arm: The sturdy and strong drilling arm and propulsion beam ensure more accurate and stable drilling and opening, expanding the operating range< Br data filtered="filtered"/>
4. Card positioning mechanism: Long guide locator and floating dust cover, ensuring the verticality and dust collection effect of rock drilling< Br data filtered="filtered"/>
5. Hydraulic rock drill: The hydraulic rock drill is matched with a hydraulic pump set of up to 23Mpa to produce a 20KW impact power and a 60Hz impact frequency< Br data filtered="filtered"/>
6. Dry and wet dust collection systems: Standard equipped with dual stage high-efficiency dry dust collectors, equipped with advanced wet dust collector technology and leading industry standards