Since the country began advocating for the construction of "green mines", Zhigao Company has been committed to the research and development and manufacturing of integrated automatic drilling rigs, continuously upgrading and optimizing its products. Multiple self-designed integrated drilling rigs are highly welcomed by mining owners. ZGYX-453A is a high-performance integrated drilling rig launched by the company. With excellent handling performance, reliable and stable drilling capacity, and efficient and reliable configuration system, it has become the best choice for mining customers.
&Nbsp< Br/>
Successful Application Cases in Shandong Mines
&Nbsp& Nbsp& Nbsp; Shandong Lubi Building Materials Co., Ltd. is a manufacturer under Shandong Steel that specializes in the production of rotary kiln cement, steel slag powder, commercial concrete and other materials. The company was founded in 1993, with an annual output of 12 million tons. It is a larger mining company in Laiwu.
&Nbsp& Nbsp& Nbsp; At the beginning of 2018, in order to improve production efficiency, reduce energy consumption, respond to environmental requirements, and eliminate old mining equipment, the company decided to purchase the Zhigao integrated down-hole drilling rig.
&Nbsp& Nbsp& Nbsp& Nbsp; There is a small interlude among them. At that time, Lubi Building Materials had already used an integrated top hammer drill truck from a domestic joint venture for one and a half months, but the effect was not ideal. So the enterprise actively contacted the Zhigao Laiwu distributor and hoped to try the Zhigao integrated drilling rig. After on-site inspection of the mine by dealers and Zhigao professional technical personnel, based on the complex rock structure and numerous cracks at the construction site, Zhigao one piece down-the-hole drilling rig ZGYX-453 was recommended.
&Nbsp& Nbsp& Nbsp; The machine entered the site for operation in February 2018. During the trial period, Lubi Building Materials was very satisfied with the machine. Firstly, the work efficiency was three times that of the original equipment; Secondly, the machine is operated by a single person, and the personnel cost is only a quarter of the original; Thirdly, it has good safety and fully meets the requirements. After the trial, it was immediately decided to purchase two additional ZGYX-453 units and eliminate the original equipment.
&Nbsp& Nbsp& Nbsp; In March 2019, Zhigao Company upgraded the model and named it ZGYX-453A. After comparing with Lubi Building Materials, they did not hesitate to purchase two more 453A integrated automatic drilling machines.
&Nbsp& Nbsp& Nbsp; At present, the five integrated down-the-hole drills developed by Zhigao are busy day and night at the construction site of Lubi Building Materials, contributing to the development of the enterprise< Br/>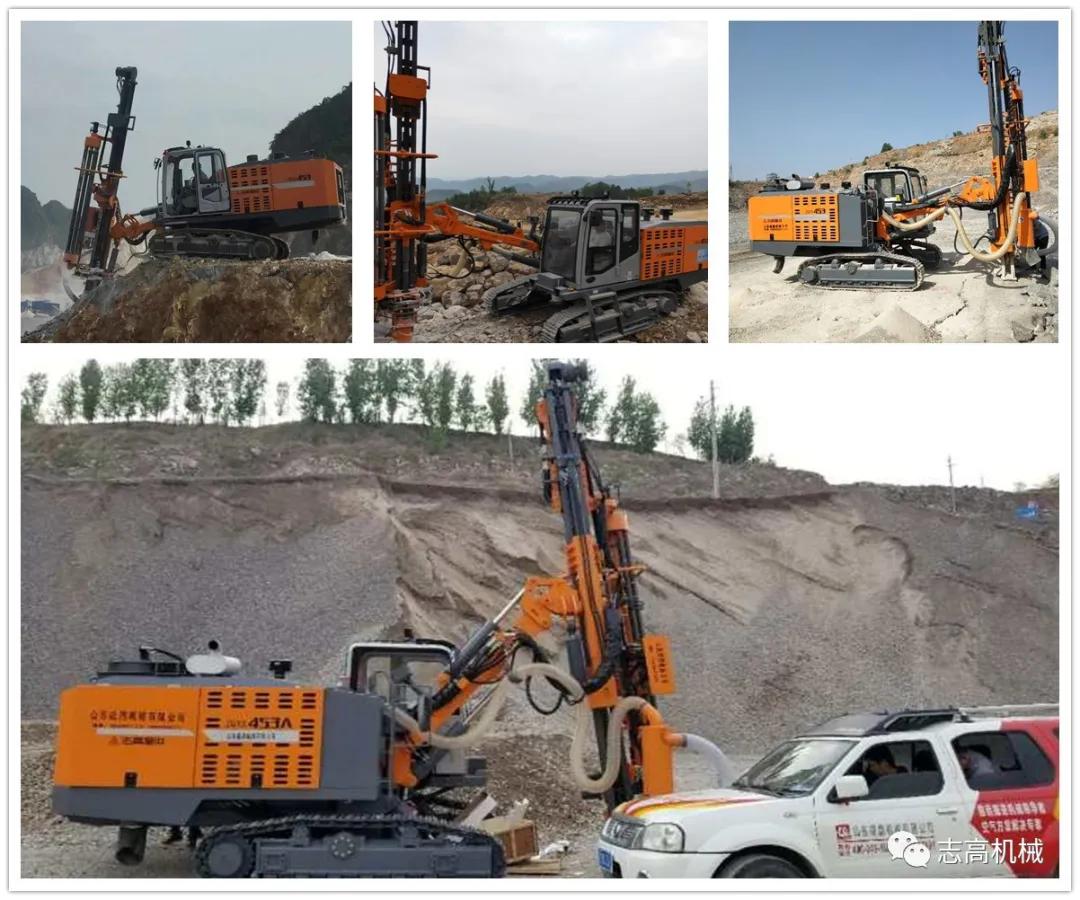 &Nbsp;
Successful Application Cases of Sichuan Cement Mines
&Nbsp& Nbsp& Nbsp; A cement plant in Meishan, Sichuan Province, used to use six power distribution 8bar air compressors with electric down the hole drills, with a daily production capacity of about 10000 tons, requiring 12 operators. Due to the sudden increase in demand for stone materials in 2018 and the increasingly strict national environmental protection policies for mines, based on the actual situation of our customers, our distributor recommended the Zhigao one piece submersible drilling rig ZGYX-453. After careful comparison and investigation, we purchased one in December 2018. After the machine enters the site, it also has a production capacity of 10000 tons. Only one 453A machine and one operator are needed to complete the task, and labor costs alone can save about 700000 yuan per year& Nbsp& Nb