Chigo TBM fog cannon has the following technical features:
  1. More than 98% effective dust removal rate
  The spray dust collector adopts the original "fog cloud" technology to atomize the solution into a cloud state of about 10 microns, so that it is completely integrated with the dust, so that the effective dust removal rate is increased from 50% to 60%, and the percentage of conventional equipment exceeds 98%.
  2. After the "fog cloud" technology atomization more than 20 times more efficient water saving, the "volume" of the solution can be expanded by more than 10,000 times. Although the effective dust removal rate is greatly improved, the dust removal range of the water volume is expanded by nearly 30 times. The amount of dust measured in the same area is less than 5% of conventional equipment.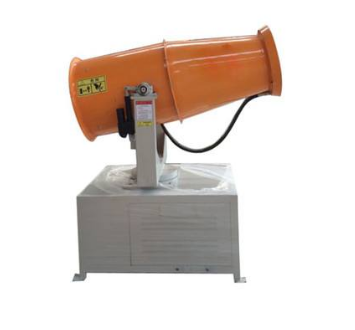 3,350° wide coverage, almost no dead angle fog cannon
  The spray dust collector adopts horizontal 350° free rotation and vertical -10 ° ~ 45 ° up and down angle adjustment, and the whole dust reduction process is almost without dead angles.
  4,6000h average trouble-free operation. Intelligent, easy to operate, easy to maintain< br/>
  The spray dust collector adopts microcomputer control, one-key start and stop, remote control and other functions, and the operation is simple. The modular design makes subsequent equipment maintenance easier.
  The > fog cannon machine of Chigo boring
has the characteristics of flexible movement, compact structure, reasonable layout, fine workmanship, perfect configuration and good operating performance.

  1. Long range, large coverage area, small fog particles, when in contact with floating dust, wet fog is formed, quickly inhibiting dust sinking;

  2. High work efficiency, fast spraying speed, strong adhesion to dust and mist, strong penetration, can effectively save water and reduce environmental pollution;

  3. Remote control/electronic control compatible, fast start, safe to use, flexible and convenient, cost-effective;

  4. Wide range of application, micro-motor controls horizontal rotation, hydraulic system controls pitch angle, variable angle speed; 5. Compared with other dust removal spraying equipment (spray spray gun, watering locomotive), the water consumption can save 70%~80%, and the water mist coverage area is much larger than other dust removal spraying equipment;

  6. The power supply can use gasoline generator set or mains three-phase 380V power supply.