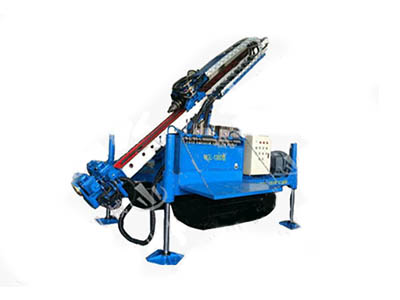 &Nbsp;
Product Description
The M G L-13 5 D type tracked deep foundation pit anchoring drilling rig is an efficient drilling rig developed by Wuxi Banshan Engineering Machinery Manufacturing Co., Ltd. based on domestic subways, high-rise buildings, airports, ground source heat pumps, and other deep foundation pits for anchoring, rotary spraying, and dewatering.
Main features:
1. Solidification can be suitable for drilling with drill pipes, casing drilling, and drilling with drill pipes and casing in accordance with drilling methods< Br/>
2. Rotary spraying can be suitable for single, double, triple rotary spraying and other construction methods. By configuring different modules, it can be suitable for the construction of the following processes< Br/>
3. Foundation pit dewatering. 4. Micro cast-in-place piles. 5. Construction of geothermal holes (wells)< Br/>
6. The torque and speed can be reasonably matched according to actual needs, with a push frame stroke of 3.4 meters, which can be used for 3 meters of drill pipe and casing composite drilling.
The rotator with corresponding torque can be configured according to different formations, improving the adaptability of the drilling rig< Br/>
Equipped with a tracked floor pan, a high-level rotating platform, a large-diameter leg oil cylinder, a 0.9 meter sliding frame, and an orifice support device, the drilling rig is easy to shift and locate, and stable and reliable during drilling< Br/>
Equipped with a clamping shackle, it ensures low labor intensity and high efficiency in loading and unloading drill pipes and casings< Br/>
We have developed corresponding drilling tools that can meet the following construction processes:
1. Three wing drill bit cobalt injection, mud discharge. Suitable for high-speed drilling in soil layers, sand and dust formations< Br/>
2. Air DTH hammer drilling, air slag removal. Suitable for construction of rock layers and fractured layers< Br/>
3 hole bottom hydraulic hammer drilling, mud discharge. Suitable for construction in formations with high water content such as fractured layers and sand and egg layers< Br/>
4 casing drilling. 5. Composite drilling with drill pipe and casing. 6. Single, double, triple rotary spraying, fixed spraying, swing spraying and other rotary spraying processes.
Usage performance
Specification
MGL-135D
Drilling diameter (mm)
Drilling diameter (mm)
Φ 150-φ two hundred and fifty
Drilling depth (m)
Drilling depth (m)
100-140
Drill pipe diameter (mm)
Drill pipe diameter (mm)
Φ 73,φ 89,φ 102,φ one hundred and fourteen
Drill pipe inclination angle (°)
Drill pipe dip (°)
0-90
Rotator output speed (r/min)
Rotary