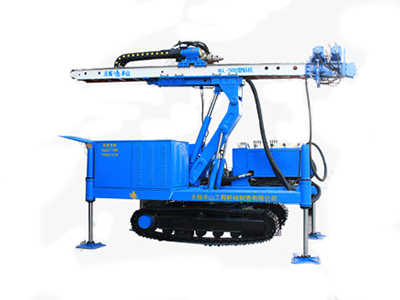 &Nbsp;
Product Description
The MGL-150S crawler type high lift anchor drilling rig is a domestic subway, high-rise building, and machinery manufacturing company developed by Wuxi Banshan Engineering Machinery Manufacturing Co., Ltd; An efficient drilling rig developed for anchoring, rotary spraying, and dewatering of deep foundation pits, ground source heat pumps, and other structures.
Main purpose:
1&nbsp The maximum speed can reach 170 revolutions per minute compared to the previous MGL&nbsp& Flash; 135D increases by 20%, which is more effective for the use of Fried Dough Twists drills and soil layers.
2&nbsp Energy saving and efficient; Effectively improving work efficiency without increasing power.
3&nbsp Compared to MGL-135D, the torque increases while the rotational speed increases; 10%, maximum torque increased to 7500NM.
4. A new hydraulic system is adopted, with a simpler structure, more reasonable layout, and more user-friendly operation.
2 The construction efficiency of MGL-135D drilling rig has increased by about 20% compared to the same period last year.
3.&nbsp& The maximum lifting height is 3.3 meters, and the double oil cylinder excavator type boom has excellent stability in any lifting state, allowing for simultaneous construction of two rows to
Three rows of holes save time and improve efficiency. It can be constructed in horizontal, vertical, elevation, and negative angles, meeting various construction process requirements.
7. The entire machine is equipped with a cover, which makes the appearance of the machine more scientific and beautiful, while also protecting key hydraulic components from pollution; Common construction techniques:
1&nbsp Three wing drill bit drilling, mud discharge. Suitable for high-speed drilling in soil layers and other formations.
1. Air down-hole hammer drilling, air slag removal. Suitable for construction of rock layers and fractured layers.
2. Hydraulic hammer drilling at the bottom of the hole, mud discharge. Suitable for construction in formations with high water content such as fractured layers and sand and egg layers.
4&nbsp Casing drilling.
5&nbsp Composite drilling with drill pipe and casing.
6 Single, double, triple rotary spraying, fixed spraying, swing spraying and other rotary spraying processes< Br/>
nine hundred and one