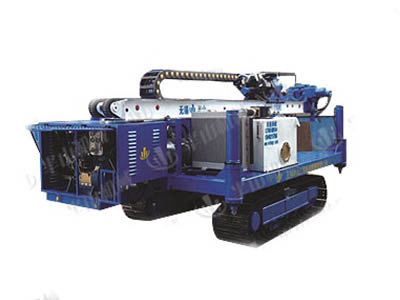 &Nbsp;
Product Description
The MGL-150F tracked deep foundation pit drilling rig is an efficient drilling rig developed by Wuxi Banshan Engineering Machinery Manufacturing Co., Ltd. for anchoring, rotary spraying, and dewatering of domestic subways, high-rise buildings, airports, ground source heat pumps, and other deep foundation pits< Br/>
Main features:
1. The maximum speed can reach 170 rpm, an increase of 20% compared with that of MGL-135D, which is more significant for the use of Fried Dough Twists drills and soil layers< Br/>
2. Energy conservation and efficiency; Effectively providing work efficiency without increasing power< Br/>
3. As the speed increases, the torque increases by 10% compared to MGL-135D, and the maximum torque increases to 7500NM< Br/>
4. A new hydraulic system is adopted, with a simpler structure, more reasonable layout, and more user-friendly operation< Br/>
5. The construction efficiency of the M G L-13 5 D drilling rig has increased by about 20% compared to the same period last year< Br/>
6. The automatic rotation function of the platform has been added, greatly reducing the labor intensity of workers during construction and improving construction efficiency< Br/>
Equipped with parallel bars diesel power, it can completely replace 18.5KW motor power. Implement tracked walking and other actions that can be operated freely without electricity, and you can walk if you want. Make the relocation of large foundation pits and entry and exit of warehouses more convenient. And separate diesel engines can be used for high-pressure rotary spraying construction< Br/>
Common construction techniques:
1. Three wing drill bit drilling, mud discharge. Suitable for high-speed drilling in soil layers and other formations< Br/>
2. Air DTH hammer drilling, air slag removal. Suitable for construction of rock layers and fractured layers< Br/>
1. Hydraulic hammer drilling at the bottom of the hole, mud discharge. Suitable for construction in formations with high water content such as fractured layers and sand and egg layers< Br/>
2. Casing drilling< Br/>
3. Composite drilling with drill pipe and casing< Br/>
6. Single, double, triple rotary spraying, fixed spraying, swing spraying, and other rotary spraying and expanding head tracing processes.
Usage performance
Specification
MGL-150F
Drilling diameter (mm)
Drilling diameter (mm)
Φ 150-φ two hundred and fifty
Drilling depth (m)
Drilling depth (m)
130-170
Drill pipe diameter (mm)
Drill pipe diameter (mm)
Φ 73,φ 89,φ 102,φ one hundred and fourteen
Drill pipe inclination angle (°)
Dril