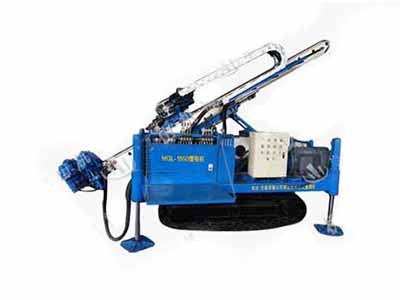 MGL– The 155D tracked deep foundation anchoring cobalt machine is an efficient cobalt machine developed by Wuxi Banshan Engineering Machinery Manufacturing Co., Ltd. for anchoring, rotary spraying, and precipitation of domestic subways, high-rise buildings, airports, ground source heat pumps, and other deep foundation pits< Br/>
Main features:
1. The maximum speed can reach 170 revolutions per minute,+year-on-year MGL 8217; 135D increases by 20%, which is more effective for the use of Fried Dough Twists drills and soil layers
2. Energy conservation and efficiency; Effectively improving work efficiency without increasing power< Br/>
3. Compared to MGL&flash, the torque increases while the rotational speed increases; 135D increased by 10%, and the maximum torque increased to 7500NM< Br/>
5 adopts a new hydraulic system, with a more simple structure, more reasonable layout, and more user-friendly operation< Br/>
3. Year-on-year MGL– The construction efficiency of the 135D drilling rig has increased by about 20%. The torque and rotational speed can be reasonably matched according to actual needs. The propulsion frame has a stroke force of 3.4 meters, and can be used for 3 meters of cobalt rod and casing composite cobalt injection. The corresponding torque rotators can be configured according to different formations, improving the adaptability of the drilling rig. Equipped with a tracked chassis, a high-level rotating platform, a large diameter support leg oil cylinder, a 0.9 meter sliding frame, and an orifice support device, the cobalt machine is extremely convenient for displacement and positioning, and stable and reliable during drilling. Equipped with a clamping shackle, it reduces labor intensity and improves efficiency in loading and unloading drill pipes and casings< Br/>
4. The entire machine adopts automatic rotary hydraulic drive, which eliminates manual labor and is easier and more convenient. 7. The tracked chassis of the Komatsu excavator is imitated, and the built-in brake makes the climbing performance of the cobalt machine more reliable< Br/>
We have developed corresponding cobalt tools that can meet the following construction processes:
1. Three wing cobalt head cobalt inlet, mud discharge. Suitable for high-speed cobalt intrusion in soil layers and other strata< Br/>
2. Air down-hole hammer cobalt inlet, air slag discharge, suitable for construction openings in rock layers and fractured layers
3. Hydraulic hammer cobalt injection at the bottom of the hole, mud discharge. Suitable for construction in formations with high water content such as fractured layers and sand and egg layers< Br/>
4. Casing drilling. 5. Composite drilling with drill pipe and casing. 6. Single, double, triple rotary spraying, fixed spraying, swing spraying and other rotary spraying processes.
Usage performance
Specification
MGL-155D
Drilling diameter (mm)
Drilling diameter (mm)
Φ 150-φ two hundred and fifty
Drilling depth (m)
Drilling depth (m)
130-170
Borehole inclination angle (°)