Every experience friends all know, the construction site often faces many challenges, especially in the short period and high requirements of engineering work, because if the manipulator technology is not skillful, the construction precision of non-compliance and need rework, it will not only increase the fuel consumption of the material and other costs, but also because of the construction efficiency is not high and the delay, affect your business development.
How to solve these problems? How to improve the efficiency of construction? In fact, in the era of smart, all can use &ldquo technology; " solution, is not called the thing! If you often use &ldquo excavator; excavation, construction, mining, water ditch Guan Daopu " conditions of operation, so called &ldquo the slope repair tool " intelligent control system; a certain slope, you will become more challenging for the successful secret weapon engineering
!
Mining step, natural double profit
!
The C intelligent slope control system, machine hand can first set the elevation of &rdquo, " " " reference point; &rdquo and " slope; the parameters in the cab display is the location of a bucket can be observed visually, and operate according to the voice prompts, even if the new machine hand can a second to become an old traveller " ", accurate and rapid for mining, flat or slope repair operation. In the actual construction, can improve the overall production capacity of up to 35%. The efficiency and yield up, profitability is also more relaxed
!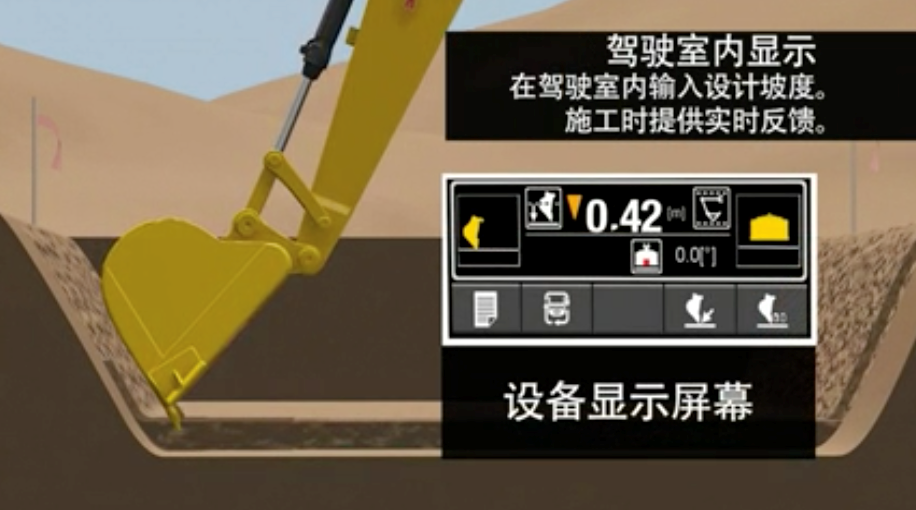 What are the advantages of traditional construction intelligent construction of PK?
Reduce labor costs: no longer need ground staff;
Provide security: mining without personnel within the scope of on-site operation more safety;
22% enhance work efficiency: reduce the pile measurement time, reduce the ground staff rework;
Increase production by 35%: disposable fast and accurate handling of materials, uninterrupted full load;
13% lower fuel consumption: don't wait for the inspection and testing personnel to reduce waiting idle.